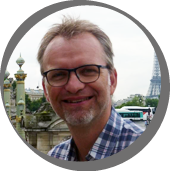 HESSEL FRINGS OVER 'DARE TO BE AWARE':
Ik merk dat de effecten blijvend zijn.
In 2013 volgde ik de training "Dare to be Aware" bij Nancy Verstegen.
Ik was op zoek naar een training waarbij ik mezelf eens serieus in de spiegel kon kijken. Mijn behoefte om te leren, te groeien en te ontwikkelen is groot en ik merk dat ik sneller leer in een omgeving waarin ruimte is voor feedback.
Nancy creëert een sfeer van veiligheid en openheid waarin het prettig leren is. Iedere deelnemer heeft zijn eigen vragen en thema's en er is voldoende ruimte voor iedereen. Ik heb ook veel van de anderen geleerd.
Naast ervaringsgerichte oefeningen is er ook veel aandacht voor theorie/modellen, voornamelijk gericht op communicatie. Die helpen enorm bij het bewust worden van "waarom doe ik de dingen die ik doe?".
Inmiddels ligt de training al weer een paar maanden achter me, en ik merk dat de effecten blijvend zijn. En ik heb altijd de map met materialen en mijn medecursisten om op terug te vallen!
Hessel Frings – De moeiteloze manager