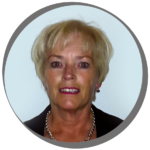 ATIE BONGERS OVER 'DARE TO BE AWARE':
Ik wil iedereen deze training aanbevelen.
Het heeft mij zoveel meer gebracht, dan ik dacht voordat ik aan deze training begon. Mijn doel was om beter te communiceren. Maar ik heb erg veel meer geleerd dan alleen maar communiceren. Ook om naar mezelf te kijken. Ik was mijn "ik", in de loop der tijd kwijt geraakt. En deze " ik" komt steeds meer terug . Door opdrachten en samenwerking met de andere deelgenoten heb ik stap voor stap geleerd om me meer te uitte en dat levert me veel op. Nu kan ik met al die nieuwe inzichten positief aan de slag. Het heeft mij erg  geholpen ook in het communiceren met mijn collega's.
Atie Bongers – Elzendaal college