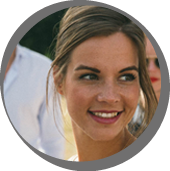 ANKE MICHIELS OVER  'DARE TO BE AWARE': 

Ik heb belangrijke keuzes durven maken
De training 'Dare to be Aware' heeft mij inzichten gegeven in mijn patronen, manier van communiceren  en waar mijn behoeftes liggen. De training is naar mijn mening behoorlijk veelomvattend. De afwisseling tussen de theorie en de praktische oefeningen vond ik erg goed.
Nancy heeft een warme persoonlijkheid en heeft oprechte aandacht voor ieder individu in de groep en weet daarnaast de flow in het groepsproces te krijgen en behouden. Ze ziet en hoort je en weet dit op een positieve, scherpe en professionele manier terug te geven.  Door deze training heb ik belangrijke keuzes durven te maken!
Anke Michiels